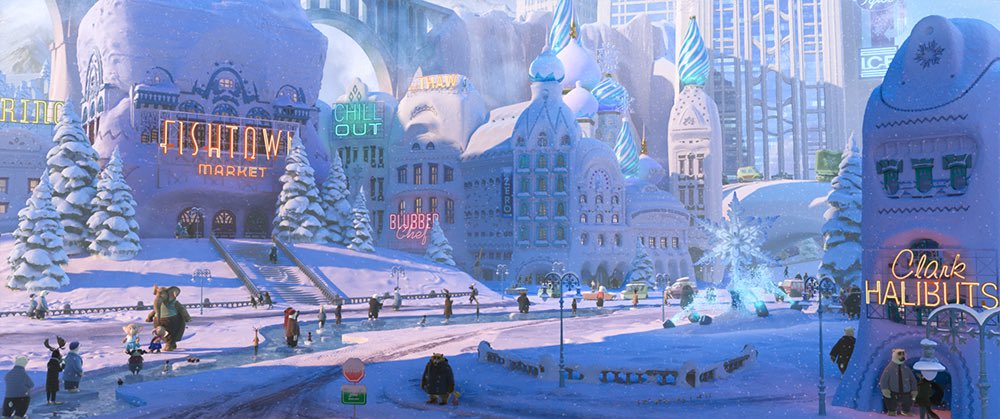 "Tundratown glistens with snow and ice all year long and is kept frigid thanks to its climate-controlling wall. Polar bears, wolves, moose, yaks, reindeer and other cold-loving animals make this neighborhood their home, but anyone can visit any time they start yearning to ice skate or throw a snowball."
―
The Official Zootopia Handbook
Tundratown is a district for polar mammals in the city of Zootopia. It is built on the opposite side of Sahara Square's climate wall.
Description
Tundratown is the icy Easternmost district of Zootopia, characterized by snow, ice and a large number of Arctic mammals living there, such as polar bears and arctic shrews.
Tundratown is notable for its arctic climate, as well as the onion-domed buildings which make up its architecture. There is a special kind of mobile transport for mammals via floating ice caps.
As well as this, skidoos are a popular means of transport, generally, because the lack of traction on the roads becomes a problem for more conventional automobiles, as well as regular taxis.


Role in the Film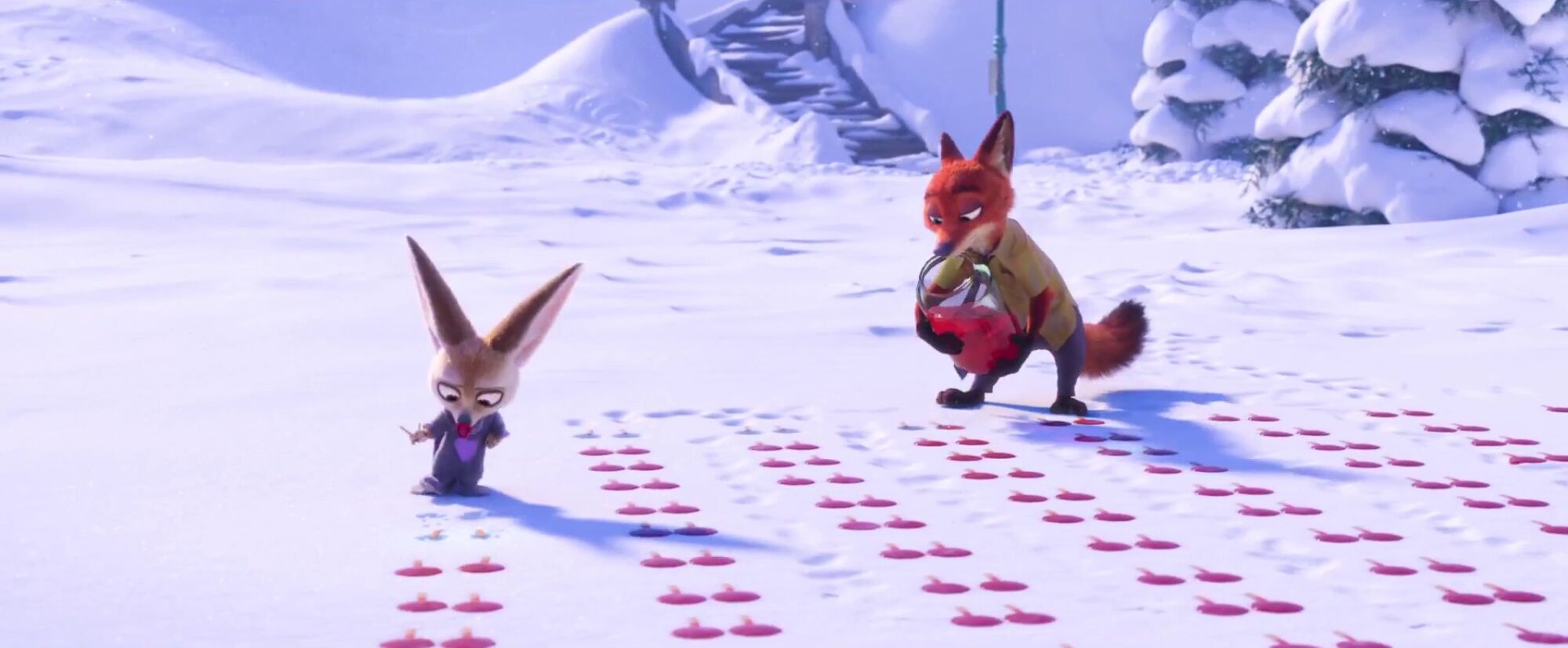 Tundratown is one of the locations that Nick Wilde and Finnick travel to when making their pawpsicles after melting the Jumbo-pop in Sahara Square.
During their search for Emmitt Otterton, Judy Hopps and Nick Wilde go to Tundratown's limo service to locate the limousine that the otter was last seen in. Initially unaware that the limousine belongs to crime boss Mr. Big, the two are abducted by the polar bears Raymond and Kevin and taken to Mr. Big's home.
After Judy's press conference, Tundratown is the topic of a news report, in which a caribou was mauled by a savage polar bear in the district.
Places of Interest
• The Thaw
It is a restaurant/lounge in briefly seen in
Zootopia
. The Thaw has live music, food, dancing, and a "plunge pool" that is always just above freezing.
• Tundratown Limo Service
It is a company run by
Mr. Big.
The business' slogan is a parody of the famous movie line "I'm gonna make him an offer he can't refuse" from The Godfather.
• Koslov's Palace
is a bar owned by the polar bear Koslov, the head of all Mr. Big's henchmen.
Food
• Clark Halibuts (also known as just "Halibuts") is a restaurant. Clark Halibuts is featured in the Dining section of the Handbook. The book praises the restaurant's tuna tartar, and states that it has a low-key atmosphere. It also mentions that Clark Halibuts has an all-you-can-eat buffet on Thursdays.

Saved from zootopia.wikia.com/wiki/Zootop…